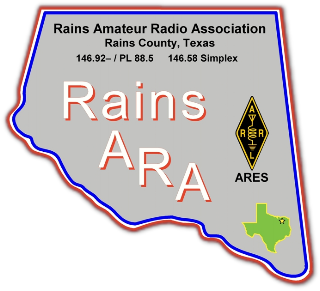 W5ENT.org
Current events
The complete list of events, past and present, is on the
Events page
.
Saturday April 27 ,2019
May ,2019
Founders Day May 4,2019
May 11, 2019 Emory Tailgate Hamfest HALFWAY BETWEEN CANTON AND SULPHUR SPRINGS! HALFWAY BETWEEN LAKE TAWAKONI AND LAKE FORK! HALFWAY (ON THE CALENDAR) BETWEEN HAM EXPO AND HAM-COM! ONE HOUR EAST OF DALLAS AT THE CROSSROADS OF EAST TEXAS AROUND THE COURTHOUSE ON THE EMORY TEXAS TOWN SQUARE 167 QUITMAN STREET, EMORY, TX 75440 NO CHARGE FREE PARKING RAIN OR SHINE SATURDAY MAY 11TH FROM DAYLIGHT TO ?? Talk-in 146.92 (-.600 PL 88.5) Tailgate Only Bring Your Own Table and Chairs BRING YOUR OLD STUFF GO HOME WITH YOUR NEW STUFF! DOOR PRIZES AND A 50/50 DRAWING AT 10:30AM (must be present) Tickets $1 each, 7 for $5, 15 for $10 9:00 AM VE Testing at the Rains County Courthouse (If still testing at 10:30, you are present for the drawing) EATS: Big Mouth Burgers, Stefanos Greek Kouzina, Pizza Hut, and The Coffee Shop ON THE SQUARE, others nearby YLs will enjoy visiting M-Pulse Outfitters Boutique, C&L Antiques, and Ivan Smith Furniture on the square, CLOZ and KIDs CLOZ nearby. Om's will want to visit Hooten's Hardware When you're done hamfesting, hit the lakes: Stripers and Crappie on Lake Tawakoni, record breaking Largemouth Bass on Lake Fork! Sponsored by Rains Amateur Radio Association Like us on facebook! Because of The Tailgate Hamfest, we are moving our regular meeting to Thursday (May 9, 2019) @6:30 to Sidekicks on Hwy 19 in Emory. June 2019 HamCom is June 7-8, 2019 at the Plano Convention Center. Because of HamCom, we are moving our regular meeting to Thursday (June 6, 2019) @6:30 at the Sidekicks on Hwy 19 in Emory.
Rains ARA meets on the 2nd Saturday of each month.
When: 0900 (9am)
Where: Rains EOC, 200 Industrial Blvd, Emory. (under the 200' tower across from the concrete plant) more information on meetings
Rains ARA repeaters
2m: 146.92- PL 88.5
440cm: 443.625+ PL 151.4
Net
Rains ARA's information net happens each Monday.
When: Mondays at 1930hrs / 7:30pm
Where: W5ENT repeater 146.92- PL 88.5
Backup repeater: 146.80- PL 141.3 (tnx WR5L) or 146.58 Simplex
Since the Hopkins net happens at 1900hrs / 7:00pm on the same night (30 minutes before the Rains net) RARA members can sometimes be found there until their own net begins. HCARC net is on 146.680- PL 151.4.
more information on nets
Volunteer Exam (VE) sessions
VE Sessions are conducted at the EOC in Emory.
more information on VE sessions
Need further information?
Email Rains ARA Rains ARA, W5ENT
Page last edited: May 28, 2018 @ 21:23:30
---