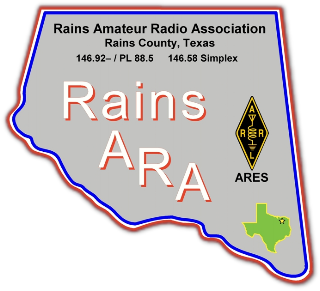 W5ENT.org
Current events
The complete list of events, past and present, is on the
Events page
.
Thu May 18, 2017
Planned: General class May 18th-20th in the hospital in Greenville.
Sat May 27, 2017
Rains ARA workday at the EOC
Fri Nov 3, 2017
Planned: Technician class at Greenville hospital Nov. 3-4.
Club meeting
The Rains Amateur Radio Association (Rains ARA) meets on the first Thursday of each month.
When: 1st Thursday @ 1830 (6:30pm)
Where: Circle H BBQ, 500 E. Lennon Drive (Hwy 69), Emory, TX 75440
903-473-2037

more information on meetings
Rains ARA repeaters
2m: 146.92- PL 88.5
440cm: 443.625+
Net
Rains ARA's information net happens each Monday.
When: Mondays at 1930hrs / 7:30pm
Where: W5ENT repeater 146.92- PL 88.5
Backup repeater: 146.80- PL 141.3 (tnx WR5L) or 146.58 Simplex
Since the Hopkins net happens at 1900hrs / 7:00pm on the same night (30 minutes before the Rains net) RARA members can sometimes be found there until their own net begins. HCARC net is on 146.680- PL 151.4.
more information on nets
Volunteer Exam (VE) sessions
VE Sessions are conducted by Ed Olague, K5OLA, Phone 903-513-4601 (email).
more information on VE sessions
Need further information?
Email club president Trent Pergrem, K5VES
Page last edited: May 16, 2017 @ 15:59:59
---