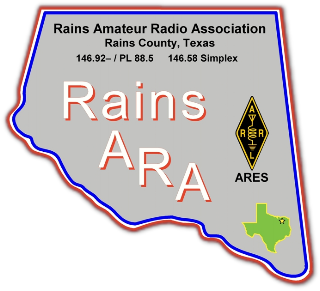 W5ENT.org
Current events
The complete list of events, past and present, is on the
Events page
.
Sat Jun 24, 2017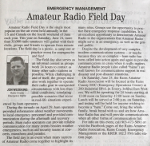 Rains ARA Field Day 2017
will be June 24-25. It will be a joint event with the Hopkins County Amateur Radio Club at the Rains County EOC, located at 200 Industrial in Emory. To find us, go to the intersection of Hwy 69 and FM 515 (Brookshires Grocery on the corner) and look south. We will be under that 200' tower, across the street from the concrete plant.
Setup will start around 8:00 on Saturday morning with the contest starting at noon. We are planning a meal for club members, guests and anyone else that shows up to visit at 2:00. Additionally, we plan a joint club meeting 3:00 and a testing session at 4:00.
We will be running two contest stations and a "Get On the Air" station will be available for anyone, licensed or not, to try their hand at the HF contest experience. The contest is 24 hours, from noon Saturday until noon Sunday. Rains ARA will be monitoring the 146.92 repeater and the NCTC system as well.
Note: the Rains County Leader published
an article
about Field Day.
Fri Nov 3, 2017
Planned: Technician class at Greenville hospital Nov. 3-4.
Club meeting
The Rains Amateur Radio Association (Rains ARA) meets on the first Thursday of each month.
When: 1st Thursday @ 1830 (6:30pm)
Where: Circle H BBQ, 500 E. Lennon Drive (Hwy 69), Emory, TX 75440
903-473-2037

more information on meetings
Rains ARA repeaters
2m: 146.92- PL 88.5
440cm: 443.625+
Net
Rains ARA's information net happens each Monday.
When: Mondays at 1930hrs / 7:30pm
Where: W5ENT repeater 146.92- PL 88.5
Backup repeater: 146.80- PL 141.3 (tnx WR5L) or 146.58 Simplex
Since the Hopkins net happens at 1900hrs / 7:00pm on the same night (30 minutes before the Rains net) RARA members can sometimes be found there until their own net begins. HCARC net is on 146.680- PL 151.4.
more information on nets
Volunteer Exam (VE) sessions
VE Sessions are conducted by Ed Olague, K5OLA, Phone 903-513-4601 (email).
more information on VE sessions
Need further information?
Email club president Trent Pergrem, K5VES
Page last edited: Jun 22, 2017 @ 19:08:02
---