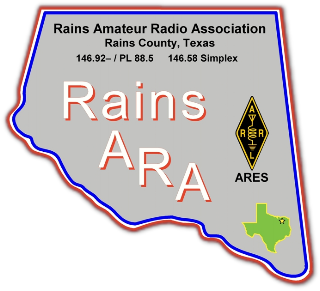 W5ENT.org
Current events
The complete list of events, past and present, is on the
Events page
.
Thu Jan 5, 2017
KE5PZI reminds us of the "eating meeting" on the 5th of January at Circle H BBQ at 630 PM.
Sat Dec 17, 2016
Workday planned for 9am, Saturday, Dec 17 at the new EOC building. We will replace the damaged sheet rock in the front room. We should have everything we need but extra hand tools and portable drill/drivers may come in handy.
Club meeting
The Rains Amateur Radio Association (Rains ARA) meets on the first Thursday of each month.
When: 1st Thursday @ 1830 (6:30pm)
Where: Circle H BBQ, 500 E. Lennon Drive (Hwy 69), Emory, TX 75440
903-473-2037

more information on meetings
Rains ARA repeaters
2m: 146.92- PL 88.5
440cm: 443.625+
Net
Rains ARA's information net happens each Monday.
When: Mondays at 1930hrs / 7:30pm
Where: W5ENT repeater 146.92- PL 88.5
Backup repeater: 146.80- PL 141.3 (tnx WR5L) or 146.58 Simplex
Since the Hopkins net happens at 1900hrs / 7:00pm on the same night (30 minutes before the Rains net) RARA members can sometimes be found there until their own net begins. HCARC net is on 146.680- PL 151.4.
more information on nets
Volunteer Exam (VE) sessions
VE Sessions are conducted by Ed Olague, K5OLA, Phone 903-513-4601 (email).
more information on VE sessions
Need further information?
Email club president John Wedeking, KE5PZI
Page last edited: Jan 3, 2017 @ 22:39:32
---