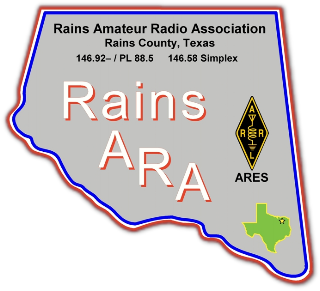 Event archive - 20161029
CQ Worldwide DX Contest
At 9am Saturday the Rains ARA will set up a station at the EOC, like Field Day, and make the activity available to those that may not have HF capabilities at home. You don't have to have a big contest station to enjoy the activity, I will bring the TS2000 that we used for Field Day and we will hook it up to our Windom antenna. If we get enough participation, we will set up a second station.
Trent: "The plan is to keep it informal, so come by when you have some time. I will be at the EOC about 9:00 Saturday morning and , if there is enough participation, we can work into Saturday evening. To be on the safe side, call on the 146.92 repeater of give me a call to be sure we are there. "
The contest runs from 00:00 UTC Saturday to 23:59 UTC on Sunday (6:00 AM Sat - 5:59 AM Mon). Typically, most of the activity is during the day on Saturday and Saturday night so that is where we will focus our efforts... we will keep it very informal. We will try to keep a General class license or higher available so everyone can participate.
Page last edited: Aug 5, 2017 @ 08:32:35
---